For the decor lovers, Christmas is the best event to show their creativity by decorating their entire home. However, I will suggest you to forget filling your house with small items and make a bet on the staircase decoration, which will warm up the entire feeling of your home and can be seen from the foyer. With a green garland and red bows, decorate the stairs this Christmas that will be an easy and enjoyable task for everyone. Thus, here we present some ideas to decorate a stairwell at Christmas. You can find other decorating ideas here.
To begin with the decoration of the staircase, you'll be placing wreaths around the railing. We recommend the use of green, recreating the color of Christmas tree is one of the most common reasons for the holidays.
Decide if the wreaths will go on top of your staircase. Think about how to use it and how it will look aesthetical. For example, if older people use your stairs, it makes little sense to put wreaths on top.
Decorate a Christmas staircase, would have virtually the same steps to decorate the tree. You can place some Christmas balls of red colors on wreath. Moreover, you can also use gold or silver color tones that are very festive. You should not do too much; remember that the whole decoration must be consistent with the rest of the things and that is the key to make it aesthetic.
If you've decided on red, you can use red ties as decorative element in your staircase, which looks very Christmasatic. No need to place a lot, a couple of them looks nice.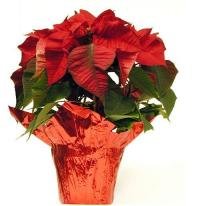 Use floral ornament for your staircase, we recommend some Christmas plant to decorate your staircase. In any florist shop, you will be able to find floral during the Christmas season, which will last beyond the holidays. It certainly appears as a good alternative for those who love floral motifs.
If the staircase is wide, enough you can place some potted small plants to acclimate. Your house already has the perfect touch of Christmas for the holidays!
To read more articles like how to decorate a staircase for Christmas, we recommend you visit our category of Celebrating Christmas.
Things Required
Wreaths
Balls
Ties
Christmas plant
Advice
Place all the trimmings as the overall aesthetics of your home.
You can include other embellishments you like.
If you wish to have detailed Christmas decoration for your staircase, try finishing off the bottom of stairs with some Christmas balls.