Polka dots nail art is quiet popular and can be done very easily at home with the help of a toothpick, nail, bobby pin or something of similar sort. Polka nail art is pretty easy to wear compared to other nail arts. Moreover within polka nail art there are plenty of variations for wearing it to have a fresh and fabulous looks within no time.
Let's start with how to add polka dots to your nails
Color you wish to Wear
Choose the base color you wish to apply on nails. This could be either the same color as of your dress or some contrast that it contains to make it match with your clothing e.g.  If you're wearing a red dress with some black borders or embroidery then I will suggest you should have a black base. Make sure to apply a good base.
Colors which goes good in contrast actually look cool in polka nail  art such yellow, pink, sky blue, grass green sort of bright colors with white base. Moreover, it also depends upon the type of function are you going to attend and what dress you are planning to wear.
Apply Dots
Take a nail or a toothpick and apply a small amount of the contrast color on it. Make sure you don't apply too much color on it or else it will become messy. Gently apply it on your nail and press it straight to have a dot on your nails. Reapply according to the design you wish to have. Don't apply dots unless the base is not dried properly.
Wrap it up 
Once the dots you've applied are dry now you shall apply the final coat which is also known as sealer and helps preventing the design you've applied from getting fade to a certain time period.
Types of Polka Dots Nail Arts
White and black polka dot nail design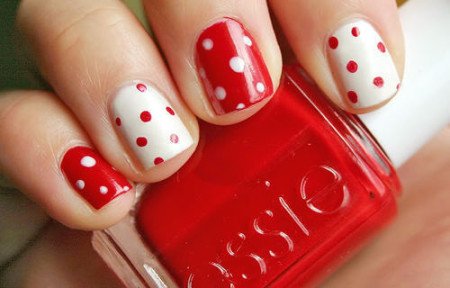 Red and white polka dot nail art
Plum and silver polka dot nail art
Gold and black polka dot nail art
Blue and red polka dot nail art
Black and white polka dot nail art
Yellow and Silver Nails with Polka Dots and Stripes
If you have some version of your own polka nail art and which to share with us feel free to send it over and we will include it in our list.